Huskies Montana charts own course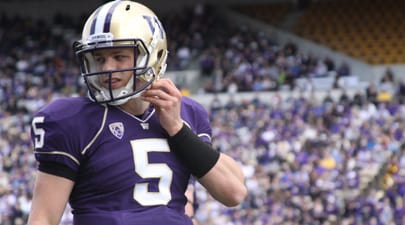 As a fifth grader when Montana finally convinced his parents to let him turn out for football for the first time, his mom had a suggestion.
"She wanted me to wear her maiden name on the back of my jersey," Montana said after a recent Washington Husky football practice. "People in the stands would yell stuff."
And not all of it was good.
Being the son of Joe Montana, the former San Francisco 49ers quarterback and Super Bowl champ, isn't always easy. With that name comes expectations. At every practice, at every game, Montana has dealt with the same reaction from every coach, fan and teammate. A fan will inevitably nudge a friend and point at Nick and "Hey, that's Joe Montana's kid."
"I've pretty much grown up with it since I started playing peewee football," Nick Montana said. "There's a lot of pressure, but my dad and mom helped me and my brother deal with it. You learn not to think about it. You just learn to be like everyone else."

"He's really a down-to-earth, hard-working kid," said Jimmie Dougherty, UW's receivers coach. "He doesn't expect anything to be handed to him because of his name. He comes out here and works hard every day."
Even though his dad is considered to be among the best NFL quarterbacks ever, Montana doesn't have a snobbish arrogance, alienating teammates.
"People gravitate toward him," Dougherty said. "He's just a great kid to be around. A great personality. We're just proud of him for working as hard as he does."
"He's a very humble guy," Smith said. "He's not like saying, 'I've got this big name. You're supposed to respect me.' He's a very hard worker. Always working hard."
"He's competing and battling with Keith every day," Dougherty said. "He's accepted that challenge and hasn't expected it to be given to him or anything like that."
When the Huskies opened fall practice on Aug. 8, Montana's parents were in the stands for the first two days of practice, cheering for their son. That's been one of the blessings of being the son a NFL quarterback. That watchful and constructive eye has always been there. Montana said his dad has been the encourager, ready to give advice. But he's never forced that advice.
"He wouldn't say anything at all unless I asked him, 'Dad what did you see? What can I work on?'" Montana said. "He's not going to say, 'Let's go, we're watching film.' He's really cool. Really laid back."
Nick Montana knows that advice is still only a phone call away.
"I definitely will still call him," the Husky redshirt freshman said. "Just having him as a resource is great. It's one of the greatest resources I can go to. Whenever I needed some advice, I went to him. I talked to him after practices this week. He gave me a few things to work on."
But that's not always been the case. When Nick Montana was younger, he didn't seek his dad's advice.
"It was hard because of the father-son relationship early on," Montana admitted. "You don't really want to listen to your dad. What does he know? It took me a while to realize what he accomplished and that I could use it for myself to get me a lot better."
When Nick Montana turned out for football for the first time in fifth grade, he didn't even play quarterback. He played defensive end and didn't start playing quarterback until seventh grade. He also played linebacker until ninth grade, then concentrated on quarterback. As a junior at Oaks Christian High in Westlake Village, Calif., Montana became the starting quarterback and was named the L.A. Daily News newcomer of the year. He was considered to be among the top quarterbacks in the country coming out of high school.
After throwing for over 2,500 yards his senior year to lead Oaks Christian to a 14-0 record, Montana made a recruiting visit to Notre Dame, his dad's alma mater. Montana's older brother, Nate, was at Notre Dame and has since transferred to Montana.
"I just didn't like it," the Huskies quarterback said. "My brother was there, too. I didn't want that deal. But that wasn't really it. My whole family has gone there. I just didn't like it as much. I kind of wanted to go my own way."
At the UW, Montana understands that his name may open doors, but he's got to still prove himself to the coaches.
"Nick is very coachable," Dougherty said. "He's got a great attitude. He loves football. You can see it in his attitude. That's all players want out of a quarterback. He loves football."