What moves big Zach Banner Lifting others spirits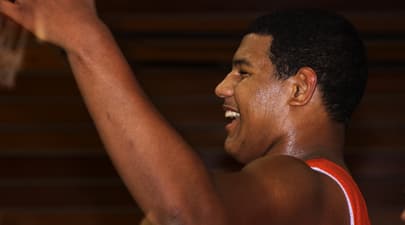 As he eyed the water bottle after practice, the request seemed innocent enough.
"Oh, can I get a drink of water? Thank you.Thank you. I am SO thirsty,"
Zach Banner
asked, his tone raising slight suspicion.
There was no time to react. Suddenly, Banner's mouth opens and water is directed into the face of the gullible classmate. The victim of Banner's prank is left feeling duped but smiling nonetheless at the cleverness of it all.
Of course, Zach Banner's wide grin shows how pleased he is with himself.
"If somebody is having a bad day, I'll do whatever it takes to put a smile on their face," Banner said. "I've literally gone up to people and said this: 'Look, I don't care how you feel. I mean, I really care about how you feel. But it doesn't matter if your dog just died. It doesn't matter if your boyfriend just broke up with you. It doesn't matter if you're having the worst day in your life. Some way, somehow, if you give me 10 minutes of just talking, I'm going to make you smile."
That's the sort of legacy Banner wants to leave at Lakes High School in Lakewood, Wash.
As a 6-foot-9, 300-pound junior offensive tackle, Banner will be one of the country's most sought after high school football players next year. He's already fielded close to 50 scholarship offers from Oregon to Alabama.
But, showing an uncanny wisdom for a 16-year-old, Banner is focusing on making the most of his time in high school by building lasting friendships and doing what he likes to do best.
Making people smile.
As the school's junior class president, he has played the role as leader and comic.
"I don't want to be one of those guys who says, 'Hey, I was an athlete here,'" Banner said. "I don't want to be just known as that. I want to be known as the fun friend. 'I was Zach's friend. We hung out. We set up the winter assembly together.'"
Lakes football coach Dave Miller will never forget the scene in Camas last month after Lakes defeated the Papermakers in a thrilling Class 3A state football quarterfinal. Miller looked over at the Camas crowd after the game and there was Banner, mingling with fans, hugging players, and having pictures taken with players' grandparents.
"He's over there yucking it up," Miller said. "He's such a nice kid. He wants to hug everyone he sees."
Cedric Dozier
, his teammate on the football and basketball teams, said Banner has left him shaking his head on many occasions.
Like the time Banner headed home after practice in his brown 1997 GMC pickup in full football gear.
Banner laughs as he recalls the looks he got from strangers while waiting for a light to change.
"He's just a good guy to be around," Dozier said. "We always joke around and say he's a big teddy bear. He knows when to be soft and when not to be. We kid around with him. He's just a kid at heart. That's all."
Banner goes out of his way to make friends at Lakes, especially those who need one the most.
"Why do you have to have a small group of friends?" Banner said. "Why can't you be friends with all 1,500 kids at this school? That's my idea. There are some kids who will say, 'Nah, that's not me.' But that's me."