Chris Petersen Must Evolve In Order For The UW Football Program to Grow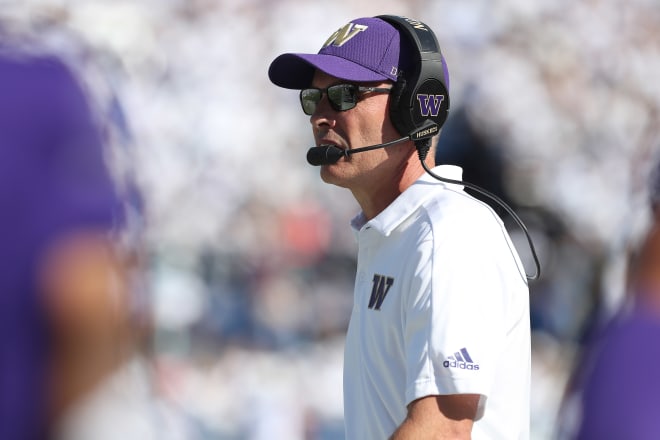 SEATTLE – Jason Taylor made an astute observation during the broadcast of the Philadelphia Eagles and Dallas Cowboys Sunday Night Football game.
Early in the first quarter, Taylor, a 2017 Pro Football Hall of Fame inductee, noted that first-year offensive coordinator Kellen Moore was calling several "high school and college style" plays for the Cowboys.
Moore spent last season as the quarterback coach for the Cowboys before being promoted to OC prior to the start of the 2019 season. He played six seasons in the NFL after entering the league as an undrafted free agent with the Detroit Lions in 2012.
As a player, Moore made just two career starts both of which came towards the end of the 2015 regular season for the Cowboys. Two years later Moore announced his retirement and he jumped directly into coaching.
In February, his former head coach at Boise State, Chris Petersen, now in his sixth season at the University of Washington, was asked his thoughts on Moore becoming the Cowboys OC.
"We keep talking about younger and earlier right? I think – if anyone that it made sense for – for people that I've been around – it made sense for Kellen Moore," Petersen said, with more praise to follow.
"Just how he'd been as a freshman coming in, mentally, and how he studied the game and how he paid attention. I mean I have so many Kellen Moore stories that don't have to do with him playing. They have more with how he prepared when he was young."
Petersen has a long-standing relationship with the Moore family.
He hired Kirby Moore, Kellen's younger brother, at UW where he spent the 2015-16 season as a graduate assistant working specifically with the wide receivers. He moved on to become a full-time assistant in 2017 at Fresno State.
Since Petersen began as the Huskies head coach in 2014, one of his main failures has been the WR coaching position.
The younger Moore was thought to be considered for the job once Bush Hamdan left after the 2016 season to become the Atlanta Falcons QB coach.
Instead, he tabbed long-time college football assistant coach Matt Lubick, which turned out to be a colossal failure on several fronts.
Lubick had burnt out after being in the profession for 22 years.
Hamdan returned to the staff after the 2017 season to become the OC/QB coach for Petersen replacing Jonathan Smith, who left to become head coach at Oregon State, his alma mater.
Short of running the table and winning the final four conference games – plus a victory in the 2019 Pac-12 Championship Game – UW will end the 2019 season having played nine Power Five opponents, the fewest since 2015.
The Huskies are 2-3 against Power Five competition this season – all five games have been against Pac-12 schools.
In those five games UW has averaged a mere 28.4 points per game, sixth best in the conference sandwiched in between Oregon (29.5) and Oregon State (26).
However, since 2016 when UW led the conference averaging 43 points, the offense has taken a significant step backwards over the past two seasons.
UW finished third best in the Pac-12 scoring 33.6 points on average in 2017, before falling to ninth last season averaging 25 points.
Much of this season has been marred with questions surrounding the lack of execution on offense, particularly at receiver which has impacted first-year starting QB Jacob Eason.
Eason, a former five-star recruit in 2016 at Lake Stevens High School, was expected to come in and elevate a sputtering UW offense this season.
Instead, the junior has been limited as many of the receivers he threw to in 2018 while serving as scout team QB haven't been on the field with him this season.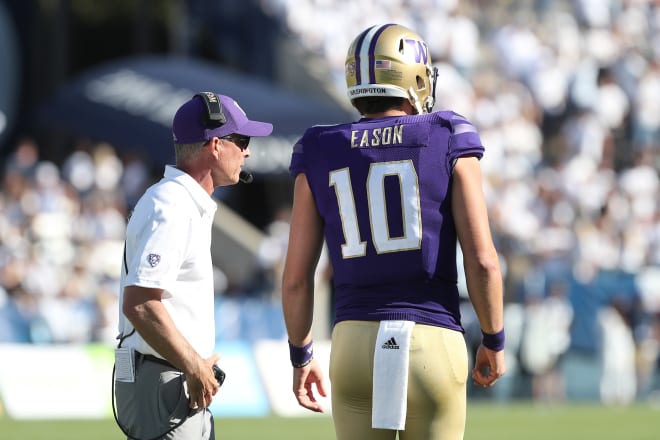 With the exception of redshirt freshman Marquis Spiker, who his first career reception this past Saturday in the 35-31 loss to Oregon at home, almost none of the receivers the Huskies signed in 2017 or 2018 have made an appearance.
There may be a scenario that explains why Petersen and the coaching staff have focused on playing seniors, while other redshirt freshmen and sophomores have been integrated at a slower rate.
If Petersen is going to make a change at coordinator after the 2019 season, and should Eason return for his senior year in 2020, then hiring one of the fastest rising offensive minds in the sport might be the solution that UW has been searching for.
Kellen Moore has used a significant amount of pre-snap motion plays with the Cowboys in 2019, one staple of a successful and effective Petersen offense.
Moore, 31, is the youngest offensive coordinator in the NFL and if Jason Garrett is relieved of his duties as head coach, it's unlikely that Moore would be his replacement. That would allow the winningest QB in college football history an opening to reunite with his old coach.
Petersen has turned several former coordinators into head coaches with Smith being the most recent at Oregon State. If Moore has a desire to become one down the road, starting out under his former college coach could provide an ideal path while it would also improve the UW offense.
Similar to LSU hiring New Orleans Saints offensive assistant Joe Brady this past January, if Petersen chose to bring Moore in to implement his offensive concepts he could be the answer.
The counter argument to Petersen sticking with those he knows, should he hire Moore after this season, is that some have suggested the head coach needs to the do the opposite and expand his coaching tree.
While that logic is rational, the previous failure of Lubick suggests that might not have the best outcome and Petersen cannot afford to continue to field a stagnated offense.
Another reason for why Moore is the perfect fit to be Petersen's offensive coordinator, he is the last active left-handed NFL quarterback and the Huskies have a rather highly touted lefty committed to the program in the 2021 recruiting class.
Sam Huard, the son of ex-Husky QB Damon Huard, is a junior at Kennedy Catholic High School in Burien, Washington and viewed as one of the nations best signal-callers in his class. Like Moore, Huard is also a lefty.
Not to say that UW or any program has to have a lefty coordinator with a southpaw under center, but it certainly would not hurt.
Petersen has used Moore in countless examples while at UW – he acknowledged as such when he expanded on his former QB becoming the youngest NFL OC in February.
"I still use him as an example. He's just different," Petersen said.
"So for him to be the OC at a such a young age is not really surprising to me. Like I said, if anybody out of the people I know would expect that out of, I'd expect that out of Kellen."