Huskies Granted Permission to Speak With Miami Freshman DL DJ Johnson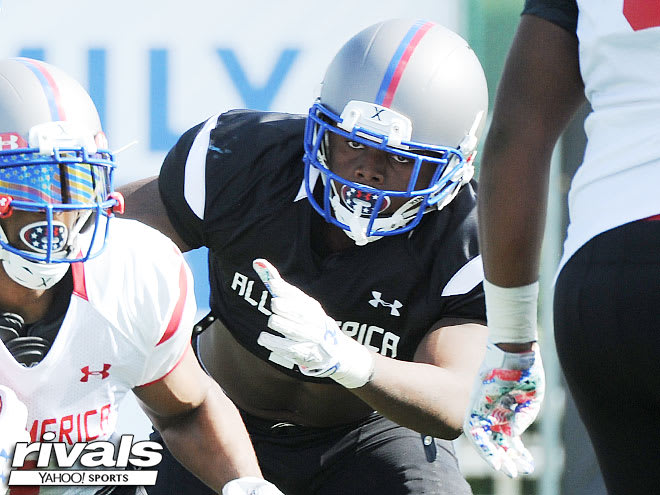 Former four-star recruit and Miami freshman defensive end [Deonte] DJ Johnson has been granted permission to speak with Washington, along eight seven other Pac-12 schools, for a potential transfer.
The No. 112 overall prospect in the 2017 class per Rivals rankings signed with the Canes over the Huskies and 42 other scholarship offers from various Power Five schools. UW was the second school to offer Johnson early on in his recruitment, hosting the four-star DE in November while still committed to Miami.
During his recruitment head coach Chris Petersen played a key role in Johnson's interest in the program, along with UW defensive coordinator Pete Kwiatkowski.
"They have a great program and great history with producing great NFL athletes," Johnson told Rivals during his recruitment, speaking of his interest in UW. "They would be a great fit for me and I know that if I go there I would play right away. I like the atmosphere and the family there – plus they have a great history."
In addition to the Huskies, Johnson is granted permission to speak with Arizona, Arizona State, Cal, Oregon, Oregon State, UCLA and USC regarding a potential transfer.
Whichever program he chooses to transfer to Johnson will have to sit out one season due to NCAA transfer rules, which he could use as a redshirt season, before having three seasons of eligibility remaining.
In a statement released by Miami head coach Mark Richt on Tuesday, Johnson indicated he would prefer to transfer to a school closer to home. Johnson added on Twitter, prior to posting the schools UM granted him permission to speak with, that family reasons are behind his decision.
The freshman from Sacramento (Calif.) Burbank played in eight games for the Canes this season, recording three total tackles.