Huskies QB Jacob Eason Talks Decision to Transfer to UW, More on KJR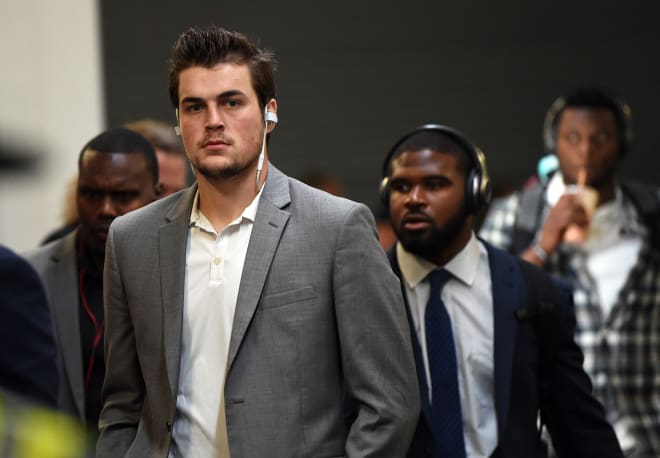 It's been a little over one month since Washington announced that former five-star Lake Stevens HS quarterback Jacob Eason would return to the state he's called home all but two years of his life.
Eason, a 6'5, 235-pound sophomore, elected to transfer from Georgia to UW following the Bulldogs 26-23 overtime loss to Alabama in the National Championship game in January.
When the former in-state product signed with UGA in 2016, Eason was the No. 1 pro-style QB and No. 7 overall recruit in the country by Rivals. Monday he joined Dave "Softy" Mahler on 950 KJR for only his second on-record discussion about why he left Athens and returned to Seattle.
Introduction – what the past couple months have been like since transferring to UW – "It's been pretty sweet. It's been good to you know, I get back to the house with the family and see my sister, my brother. Mom and dad haven't been around for a couple years being over in Georgia. But it's been pretty sweet. Doing a lot of footwork drills and staying in football shape because spring ball is coming up. Then finding a place to live down in Seattle is going to be sweet. I'm excited. I grew up going to the city, going to Mariners, Seahawks and Huskies games. So it's good to be back and getting ready to roll."
On the path – deciding to leave Georgia, choosing UW – "Right, yeah. So I wanted to finish the season out at Georgia. I didn't feel like it was right to dish out, be half away in and half way out, while I was still on that team. So I waited until the very end of the season. Obviously we had a great season last year. We made it to the National Championship. So that's why it was kind of up in the air for a while. So then I talked to coach Smart after the season. I wanted to finish it out, have a strong year which we did, and I'm glad I got to have that opportunity. I remember before I left, before I – when I was committed to Georgia and I went on a visit to the University of Washington – coach Petersen said I'd always have a spot back here if I ever, if it didn't work out. I remember him saying that, so that was a big for me and my decision. I talked about it with my family. My dad's a big help in this whole process, so is my mom. And you know it just felt right. I think it was probably going to be the easier transition coming home, because I know some of the guys on the team and I know I have a good relationship with coach Petersen. Even with coach Bush Hamdan at Atlanta. He was right down there so I got to see some of the things that he was able to do with the Falcons and Matt Ryan. So the transition really wasn't a tough decision for me. I was excited to be a part of this university. I'm excited to start classes on Monday and get in there with the guys. I'm really excited to work alongside Jake – Jake Browning, Colson [Yankoff], Jacob Sirmon and getting there with those guys. Learn from them, learn from Bush and learn from Coach Pete. Overall I'm just real excited."
On when he first started to think about transferring from Georgia – "It was probably a good way through the season. Probably three quarters, week eight or nine. I wasn't playing and that's the unique thing about being a quarterback is, no matter how many guys you have in the room, only one can play. Jake Fromm had a great season last year, he's a great kid I love him to death. I wish the best for him and same with all my buddies on that team, but I had to do what was best for me and it was ultimately a business decision. And I think I made the right choice and I'm excited to start."
On if any other schools besides Washington were a legitimate transfer destination – "It really wasn't that hard of a decision. Because like I said, I grew up watching Jake Locker and those kind of guys play at UDub. It's always had a spot in my heart that it would be a great setting in college football. It's an awesome place. It's a place you dream of going to play. So when the transferring came to mind UDub was the first school that I thought about. Ultimately I decided to pull the trigger because what better option is there than UDub? There's really not. Not as a transfer, as a kid from this area. So that was my thought process there."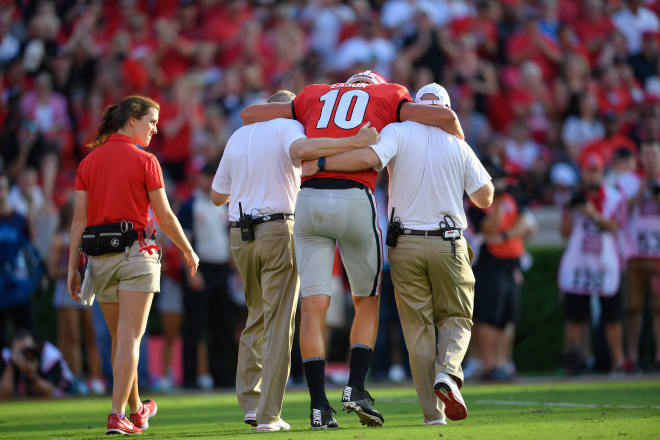 On when he was at Lake Stevens HS what made him choose Georgia over UW (and others) – "Well ultimately what happened there was I was a sophomore in high school when Georgia had offered me. I remember coach [Steve] Sarkisian, when he was the coach at that time at UDub, he was going to come for a visit that next weekend and that's when they were going to offer me. But he ended up taking the job at USC. So they (UW) didn't actually offer me until my junior or senior year, because coach Pete and the new staff had to come in and ultimately they had a lot of things on their mind so their first thought wasn't to go – which I understand. So by the time they had officially offered me I had already been committed to Georgia, and I wanted to stick with my decision and I'm glad I did. I had a great two years down there and learned a lot. Got to play in the SEC in front of 94,000, so it was a great experience to have in my back pocket while I make the transition over here. So yeah when I was in high school they offered me a little bit late but I didn't have a problem with that. I understood what was going on. Like I said before he had always mentioned that if I ever needed a spot, if it didn't work out I was welcome to come back home and those words stuck with me."
On when Eason/someone first reached out to UW what was the initial response – "Oh yeah they were excited to have me. Quarterback room needs a little competition and I'm excited to add to that, to work alongside those guys. I'm just really excited to be a part of this team."
On if Eason doesn't get injured in 2017 does he not talk to Softy on Monday – "Honestly I couldn't tell you. But if I'd not gotten hurt and I finished out the season I doubt we'd be talking right now. But that's the thing about football. It's an injury-related sport, things are going to happen and it did but I couldn't be in a better spot."
On what it will be like to have to sit-out the 2018 season and what Eason wants to get out of his transfer year – "I want to get out as much as I can out of this year. I want to get in and learn the playbook, really the in's and out's, and get in with the guys. Building relationships with the coaches and the players. I'm looking at it as anything I can to help this team get better. Whether it's scout reps, rag-team reps, working with three's and four's. Whatever I can do really to help this team get better even though I'm not playing on Saturday's. Also I'm really excited to learn from Jake Browning in his last go. I'm really excited to what that relationship blossom. There's a lot of thing's I'm looking forward to. Just being a part of the team again, being back on the field having fun at practice and just rooming it around."
On how much different Eason is from the time he left Lake Stevens to now having spent two years in the SEC – "The first thing you get from playing in the SEC as a freshman with all that going on is the experience. I'll have that experience in my back pocket and, you know the things I was able to do down there are pretty cool and I had a great time doing them. I think the experience will be the biggest thing and also learning that playbook verses coming in this one that will only help me in the future. So really when you put it all together I'm very excited to start and get in with these guys. But I think the experience was a big thing. Even living down south was big for me. I grew up for 18 years living up here and I got a whole new perspective on the way people live. A whole different thought going on down in Athens, Georgia. So I think coming back here I'll have some of that experience and some of this experience and it all kind of combines. I'm really excited to see where it goes."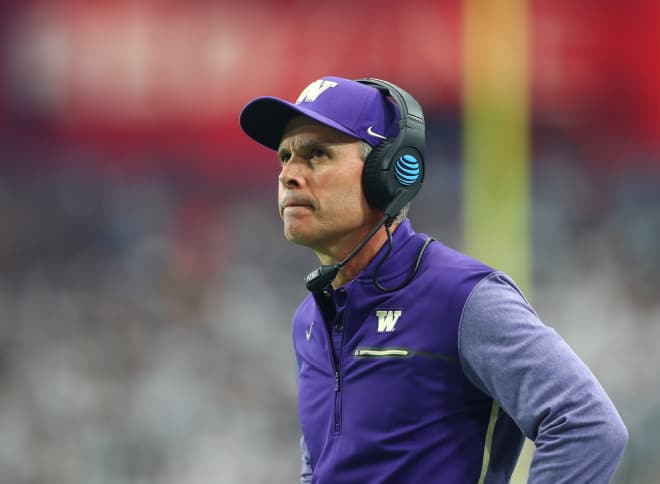 On the assumption that after Browning starts and graduates in 2018, Eason starts in 2019-20 and goes to the NFL, and Eason's own expectations – "Yeah I mean the expectation thing that comes along with it. There's expectations wherever you go. So I'm not really worried about that. I'm not worried about a year, two years down the road. I'm just worried about taking it day by day. The first thing I'm worried about is getting in that locker room and bonding with the guys and that first practice in the spring on Wednesday. That's my mindset. Just take it day by day and have a good time playing the sport that I love playing. So I'm not worried about what's going to happen in the future. That's out of my control. I'll do everything I can do put myself in the best position to contribute to this team. But I'm going to take it day by day, practice by practice and see where it goes. I'm excited to be a part of it and I'm excited to get started."
On training with former Skyline HS, BYU/Kansas/Miami QB Jake Heaps over the past couple months – "We've been doing a lot. Jake has a plan for every workout. We've been going for a month and a half, two months now, three to four days a week. It's been cool. He's been a great resource. He was a guy that was in the same shoes I was a couple years back at Skyline High School. It's cool to talk and chat with the guy who shares some of those the same experiences. He also transferred in college so he's talked to me about that, that whole process. He's very detail oriented and it's really cool to see what he's been able to do with my motion and my footwork and everything these last two months. We put a lot of time in on the field and I don't think there's a better guy out here in the Northwest that does what Jake does. He's a very driven guy and I'm liking the results I'm seeing and looking forward to working out with him more."
On what is current height and weight is heading into spring practices – "6'6, 230 range. 225-230. Once I get in the weight room I'm sure that it'll go up. I'm not worried about that."
On how much he wants to increase his weight to – "I could fit in that range. 230-240. Whatever the weight strength guys want at UDub. Whatever coach Pete want's me playing at that's what I'll shoot for."
On if Eason has talked to any other former transfer QB besides Jake Heaps – "The biggest one is Jake. He's been there the last couple months I've been up to see him face-to-face. I had a chance to speak with Russell Wilson at last Saturday's deal at the RWQB I was out there. I got a workout in and then I worked the camp with Jake. Got to speak with Russell a little bit. Not much about transferring, just more about life, how's it going. But Jake's been my main guy for all that, because he's been there and done that and knows what's going on. So I'd say in terms of talking to people it's Jake Heaps."