{{ timeAgo('2021-01-13 17:33:56 -0600') }}
football
Edit
Ty Jones Set to Transfer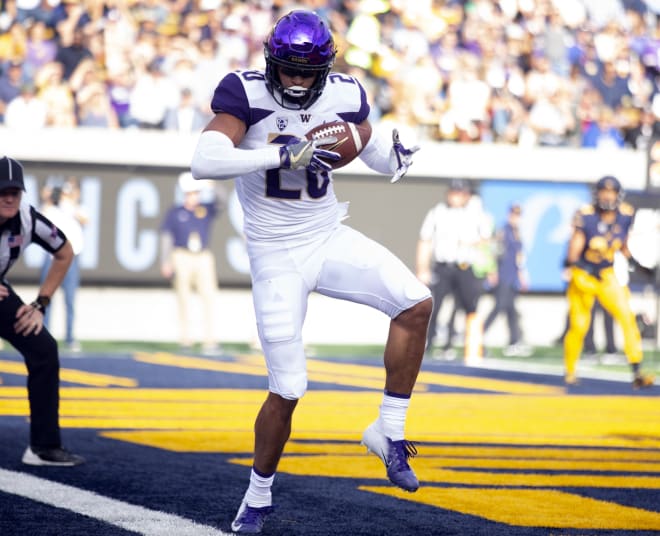 Washington is losing one of its veteran wide receivers to transfer.
Ty Jones, a senior who signed back in the class of 2017 out of Provo, Utah, announced Wednesday on social media that he will graduate from the university and enter the transfer portal.
"Husky Nation, where do I begin? I can't thank you all enough for taking a kid from Provo, Utah in as one of your own and embracing me. While being here, I've grown so much as a player and more importantly as a man. I have nothing but respect for the UW Football program, Husky Nation, and the city of Seattle. I've developed relationships here with teammates, mentors, and friends that I will cherish and nurture forever.
"The memories I've made here have been amazing and I thank the coaching staff, medical and training staff, Bart and the equipment staff and of course (Tim) Socha and the strength and conditioning staff for making it possible.
"With that being said, I've decided to graduate and enter the transfer portal with my remaining eligibility. This definitely won't be the last time I'm in Seattle but for now this is the right decision for me. Thanks again Husky Nation!" Jones wrote in a note and posted on Twitter.
Jones finished the 2020 season with the third most targets of any UW player (14) behind tight end Cade Otton (20) and fellow receiver Terrell Bynum (15). In true fashion, Jones ended his career doing what he always did for the Huskies offense; leading the team in yards per catch.
23.3.
Six yards more than the next UW receiver, coincidentally someone who Jones referred to as his younger brother over 18 months ago, Puka Nacua.
Jones was the first player from the state of Utah – an area that has become a hot bed for not only Husky coaches, but a must-stop for college coaches across the country – back in 2017 and opened the door for players like Nacua to see it was possible.
Jones suffered a number of injuries between his junior and senior year at UW, including a thumb injury in fall camp last year that forced him to miss all but the final four games of the 2019 season.
Prior to that injury, on August 6, 2019, Jones explained how that injury reshaped his mental process and approach to the game.
"Going through this injury has given me a whole new appreciation for the game, a new drive," Jones said. "Honestly, I just need to improve my mental game a lot more. I know what to do. It's just a matter of staying calm and executing in the moment.
"The more film you watch, the more clarity you'll have (and) the more confidence you'll have. I mean, I'm a guy that tries to meditate. Keep my focus there. When the pressure comes try to block out all distractions."
Jones and Bynum were the lone two receivers UW signed in the 2017 class under then-first-year wide receivers coach Bush Hamdan. Alex Cook, a three-star out of Sacramento, California, also signed in the same class but has since switched to defensive back for the Huskies.
This past season Jones recorded six receptions for 140 yards. He hauled down six touchdowns in his four year career at UW, all in 2018. With his redshirt season in 2019 and this past season being a bonus year, Jones should have at least two years of eligibility remaining for his next school.
Jones is the second scholarship receiver to transfer out after the 2020 season concluded. Jordan Chin transferred to Sacramento State and walk-on senior Fatu Sua-Godinet also elected to enter the transfer portal after the season.